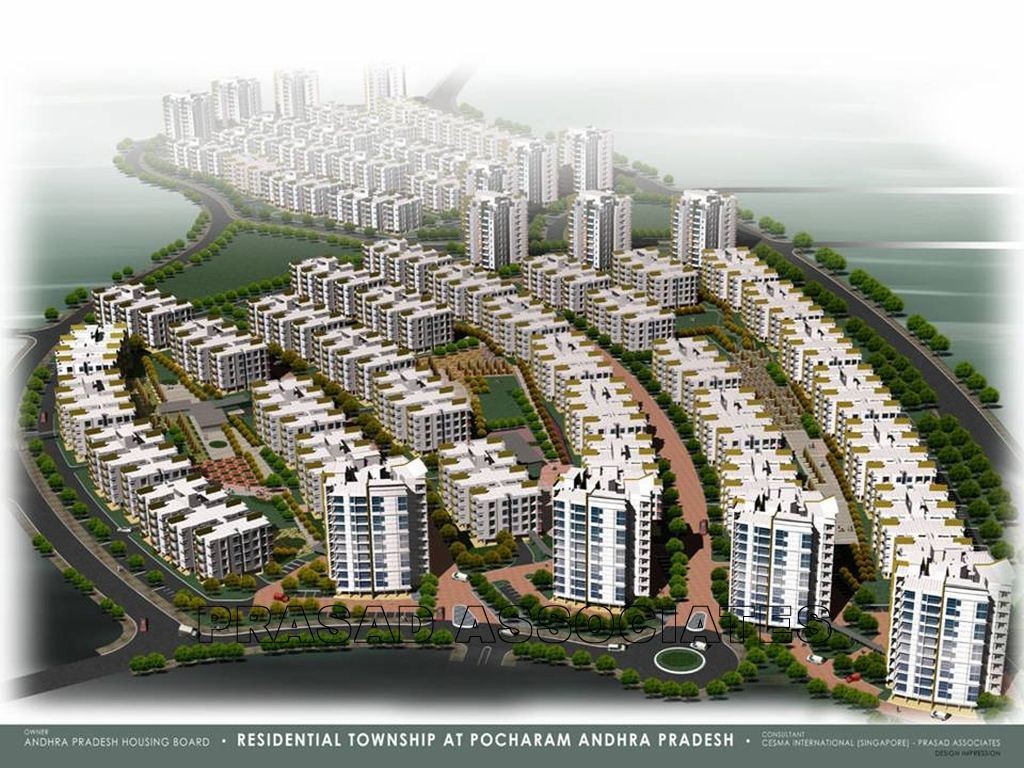 AP Housing has constructed during the year '2003-2005' a unique and fully Integrated Township with an array of elegant '2080' Apartments of different categories at about '20' km distance from Hyderabad Railway Station and about '8' km east of Uppal on the 'Hyderabad-Warangal' National Highway in about '85' Acres of land at Pocharam near Ghatkesar of R.R.District with 74% open space and only 26% ground coverage. All apartment units are independent with ample ventilation and no common walls. Special care has been taken to create landscaped pockets in between blocks that will not be disturbed by vehicular traffic enabling the children to play safely and the community to join in. The township is located in nature's lap, blessed with fresh breeze and unspilt surrounding. Sunny, airy and spacious, each dwelling is marked by distinctive architecture. The proposed MMTS station is about 2.5 km away. The outer ring road runs close to the township.

The AP Housing Board after maintaining the facilities in the Township for a period of more than two years has handed over the maintenance to the 1st Executive Committee formed by selection of Flat owners and formed an Association by name
Sanskruti Township Flat Owners Welfare Association (STFOWA), REG.NO.781/2009 UNDER A.P. SOCIETIES REGISTRATION ACT, 2001.
Amenities – Sanskruti Township
About Project
Sanskruti Township (Singapore Class Integrated Township) is an ultimate reflection of the urban chic lifestyle located in Ghatkesar, Hyderabad. The project hosts in its lap exclusively designed Residential Apartments, each being an epitome of elegance and simplicity.
About Locality
Located at Pocharam, Ghatkesar, Near INFOSYS SEZ Campus in Hyderabad, Sanskruti Township (Singapore Class Integrated Township) is inspiring in design, stirring in luxury and enveloped by verdant surroundings. Sanskruti Township (Singapore Class Integrated Township) is in troupe with many famous schools, hospitals, shopping destinations, tech parks and every civic amenity required, so that you spend less time on the road and more at home.
About Builder
Sanskruti Township (Singapore Class Integrated Township) is engineered by internationally renowned architects CESMA International (Singapore) and AP Housing. The Group has been involved in producing various residential and commercial projects with beautifully crafted interiors as well as exteriors.
Units and Interiors
Sanskruti Township (Singapore Class Integrated Township) comprises of 2 BHK and 3 BHK Apartments that are finely crafted and committed to provide houses with unmatched quality. The Apartments are spacious, well ventilated and Vastu compliant.
Amenities and security features
Sanskruti Township (Singapore Class Integrated Township) offers an array of world class amenities such as Apartments. Besides that proper safety equipments are installed to ensure that you live safely and happily with your family in these apartments.
Highlights
---
The Project is first of its kind in the country
World-renowned CESMA International, Singapore has planned, designed and executed the project
Designed as per Vaasthu.
Undevided share of land on free hold basis.
Gated community, round the clock-security, broad well-planned roads with footpaths and service ducts.
'10' passenger capacity automatic door lift for each block with additional lift and stand-by generator for '10' storyed blocks.
Secondary roof over terrace for heat insulation.
Room with attached toilet in stilt floor of each block for common use.
Piped cooking gas supply by M/S.BPCL with two '10.0 M.T' bullets.
Fully underground " Water, Electrical and Sewerage" lines.
An exclusive water supply pipe line from Moulali to the Township by HMWS &SB.
3.0' MLD capacity GLSR.
'1.0' MLD capacity OHSR.
Environment friendly '1.40' MLD Sewerage Treatment Plant.
Essential stores such as grocery, pharmacy, fruit& vegetable stall, milk booth, coffee & snack bar, dry cleaning, barbershop.
Service providers for Internet, telephone and Cable TV.
Maintenance of all the facilities with professional Property Managers.
An Integrated Township with provision for swimming pool, clubhouse and commercial complex.
Exclusive electrical sub-station.
R.K.Raheja's I.T.Park spread over in '105' acres of land (handed over by APHB) adjacent to the township.
India's no.1 I.T.company M/S.INFOSYS's campus spread over in about '450' Acres of land (handed over by APHB) is adjacent to the township.
Nearby Places and Landmarks
---
K. Raheja IT Park, Pocharam.- Hyderabad (1.2 Km)
Infosys SEZ Campus (1.5 Km)
International Schools (1.5 Km)
Anurag Group of Institutions (5.1 Km)
Siddhartha Group of Educational Institutions (SITS) (6.5 Km)
Sreenidhi Institute of Science & Technology (7 Km)
Samskruti College of Engineering & Technology (7.9 Km)
Kacheguda Railway Station (21.8 Km)
Hyderabad Deccan Railway Station (25.3 Km)
Begumpet Railway Station (28.2 Km)